The Good News of God's Story in 3 Circles
How many times, in everyday conversations do people engage you about their problems or challenges? It's amazing how often people share their heartaches regarding their marriages, children, finances, addictions, depression—you name it. People are hurting, and they need hope.
These tools will help you turn conversations about problems into conversations about Jesus!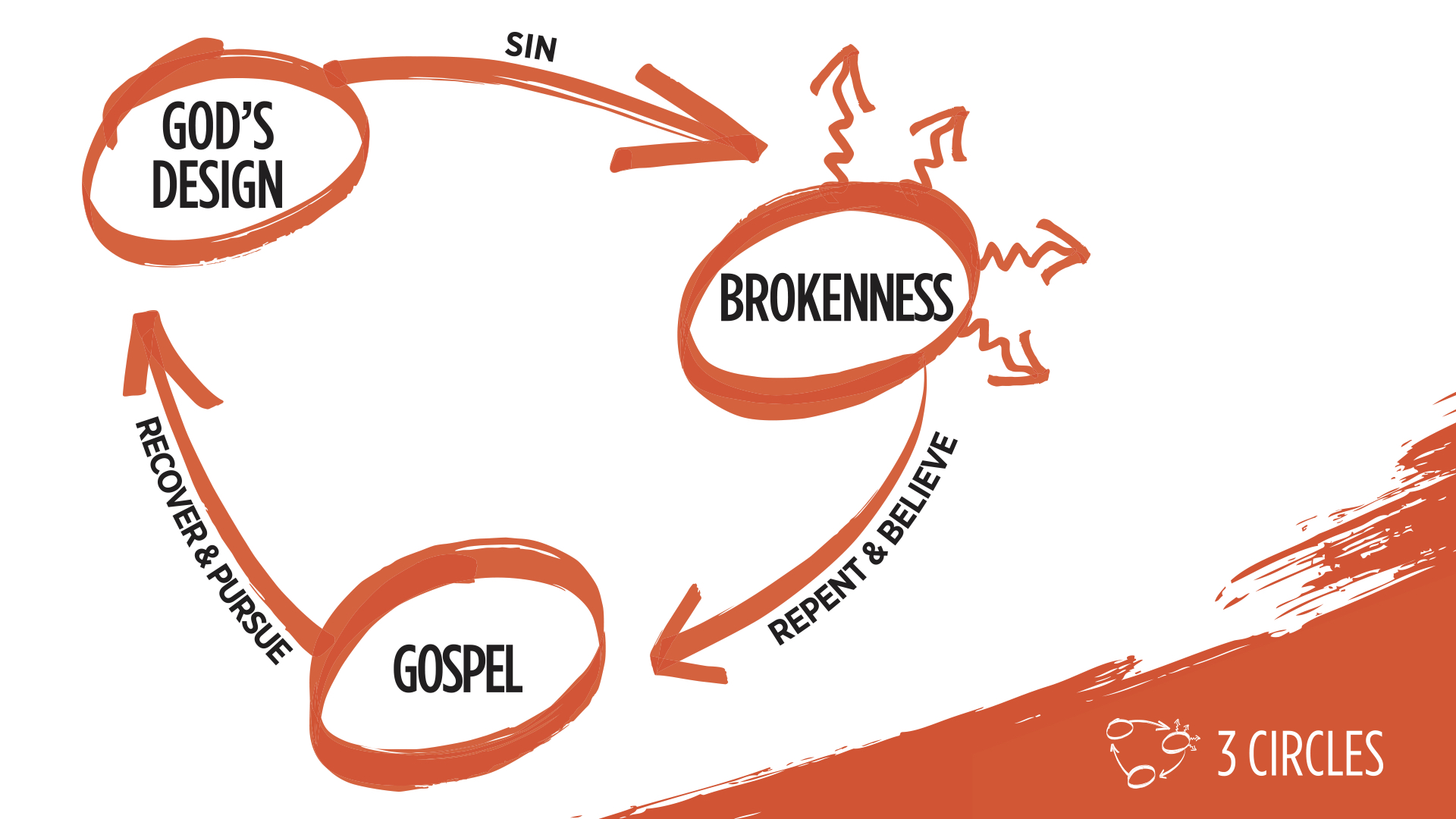 The 3 Circles is really simple! It involves three circles connected by three arrows.
It begins with God's design.
It follows an easily relatable script of every man, woman, and child's departure from God's design as sinful people that leads us all to brokenness. When something is broken, we try to fix it. Everyone wants out of brokenness.
Ultimately our relief from brokenness is found in repentance and faith. We must repent and believe the gospel in order to be rescued from brokenness.
The gospel is Christ dying in our place on the cross and taking the penalty that we deserve for our sins. He was resurrected, and in turn we are resurrected into a new life when we believe the gospel.
Through God's grace we are able to recover and pursue His design for our lives—from whatever place of brokenness we find ourselves in.
You can turn your everyday conversations into gospel conversations! Here are five simple tips:
Love the people around you. (Matthew 5:16)
Pray for boldness and for opportunities to share the gospel. (John 14:26; Ephesians 6:19; Colossians 4:3-4)
Listen sensitively. "The three circles works best when someone shares a problem, issue, or concern." – Jimmy Scroggins
Transition to the gospel.
2 Corinthians 5:17–20 God has fixed us so that we can be used by him to fix others!

Use your personalized transition statement. Example: "You know, I've not been through the exact same situation you're in, but I have faced similar problems. May I share something with you that has given me hope?"

Don't be pushy; trust God!
Go for it! Share the gospel using the 3 Circles!
---
This material has been adapted from Turning Everyday Conversations Into Gospel Conversations by Jimmy Scroggins and Steve Wright, B&H Publishing Group.