billing and payment
---
(This is a secure transaction.)
Guess Who's Coming: Are You Ready or Not? (4-Part CD Series)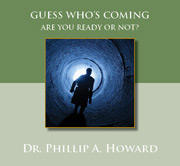 Guess Who's Coming: Are You Ready or Not?
Studies in Second Thessalonians
4-Part CD Sermon Series

Part 1: The Second Coming of Christ
Part 2: The Coming of Antichrist
Part 3: The Chosen of Christ
Part 4: The Conduct of the Christian

Second Thessalonians deals with the future coming of Jesus Christ and the coming of one known as "the Antichrist" or "the Man of Sin". Christian or not one will face Christ in the future and hopefully not serve an antichrist.