INVESTED Campaign Update: June 1, 2018
PLEASE NOTE: The Last day for pledge contributions to this campaign is June 10, 2018
COMMITMENT AMOUNT TO DATE: $2,257,405
COMMITMENTS TO DATE: 299
COLLECTED TO DATE: $$1,886,197 (83.5% of total pledge)
What does "INVESTED" mean?
We adapted the theme "giving today INVESTED in tomorrow" with this thought in mind: God says that we are to be generous and ready to share, becoming "INVESTED" so that those in the future might take a hold of life indeed (1 Timothy 6:18-19). Everyone who makes sacrifices today in faith, in joy, and in giving becomes "INVESTED" in tomorrow and the generations to come. Can you hear the Lord calling you to get IN, to become "INVESTED"?
Use the links below to download PDFs of our brochure and newsletters!
Campaign Brochure
Newsletter 1
Newsletter 2
Newsletter 3

How can I be INVESTED?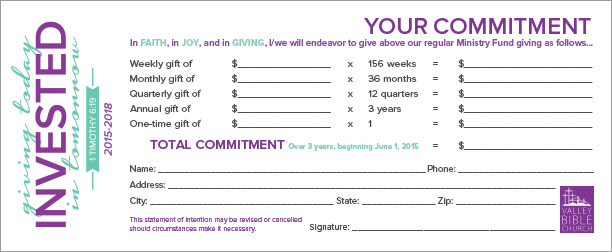 If you want to be INVESTED with us in this ministry, please place your commitment online via Fellowship One or download and fill out a commitment card. You may also use Fellowship One Online Giving to make a one-time gift.
---
For information on our 2012-2015 Capital Stewardship Campaign, visit MISSION:POSSIBLE.