latest campaign update (May, 2015):
---
Pledges to date: 410
Total pledge amount to date: $2,858,094
Collected to date: $2,342,824 (thru May 31, 2015)
Percent of commited amount: 82%
We needed $515,270 by June 1, 2015 to reach 100% of the 3-year commitments.
Because of your faithful giving, the following improvements have been made:
Completed the purchase & installation of acoustic treatments in the Worship Center sanctuary
Installed a new roof on the Family Life Center
Repaired & painted the entire exterior of the Family Life Center
Painted the exterior trim, handrails, dormer, exit doors, and outside stairwells of the Worship Center
Painted all of the parking lot light poles (18)
Erected 3 new landmark steel crosses replacing the decaying concrete ones along Highway 4
Repaired, resurfaced, and restriped all the church parking lots and the cul-de-sac

Enabled us to re-finance our mortgage loan and continue making our monthly mortgage payments

Enabled us to make additional mortgage loan principal pay-down payments totaling $508,000

Purchased and installed

new high-definition cameras, sound and video equipment

for the Worship Center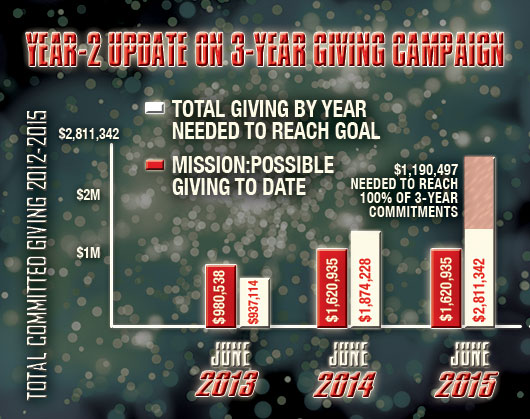 Praise God for his blessing & provision to this ministry here at Valley Bible Church. God is indeed "Jehovah Jireh", Our Provider, who makes ALL THINGS POSSIBLE.
---